The talented team at UNIT9 Florence collaborated with AUGE9 to build a cheerful and vibrant HTML5 microsite for IKEA Italy, focusing on and promoting the Swedish furniture giant's children range.
To facilitate the IKEA concept of easy, natural and unconstrained life, we created a platform, allowing users to browse effortlessly through the children range within all IKEA product departments. The microsite is divided into five columns, each showing you in a different perspective how IKEA products can make your life easier, and the world of your children – more colorful and exciting.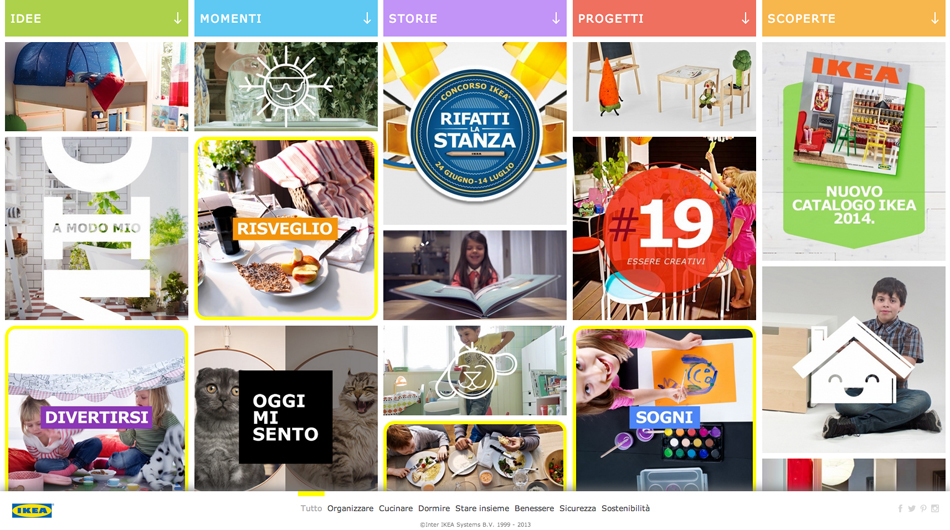 Users can scroll through each column independently and click through the boxes to discover different content – more pictures, videos, ideas, or product information. Just like the IKEA storage systems – tidy, easy to use and each box hides a little "treasure". The microsite is socially integrated, enabling you to share each individual content with family and friends via Facebook, Twitter, Pinterest or email.
Each content box is also linked to the IKEA e-commerce website, giving you the option to easily locate and order any product you've liked.
Since it's a microsite dedicated to children's environment, we added also a little fun game as a wink to the inner child in each of us. Among the content boxes are hidden special words associated with IKEA. Using jQuery Sortable and TouchPunch, we empowered users to reorder the words using drag and drop to form a simple sentence symbolising what IKEA means to them. Then the build-in Facebook and Twitter apps make it easy to share the message with friends.
The biggest challenge the UNIT9 developers faced was to ensure the same user experience across all devices and browsers. To achieve consistency, they drew inspiration from the versatility of IKEA products and used a range of different plug-ins to custom tailor it to your browser of choice.
Don't forget to check the website regularly, because it would be updated regularly with new content about the latest IKEA products within the children range.
Visit Page
---
Credits
Division

Agency

Brand

Production Company

Executive Director

Creative Director

Web Designer

Art Direction

Art Direction

Art Direction

Copywriter

Copywriter

Client Director

Production Director

Executive Producer

Project Manager

Tech Lead

Front-end Developer

Back-end Developer
Technology

Platform

Kind

Industry

Target Market

Release Date

2014-08-07